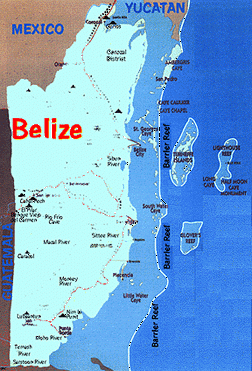 "Plunge Into The Barrier Reef Where Angels Soar And Butterflies Glide"
Caribbean Adventures has been providing dive travel to Belize for 15 years. It is one of the most beautiful places in the Caribbean to experience blue hole diving. Caribbean Adventures can arrange group dive trips as well as customized individual dive vacations to meet your needs. Belize is affordable and easy to get to, it's perfect for groups, and individual divers.

We cannot describe what diving in Belize is like better than you do, our divers have been writing us for years about the beauty, ease and enjoyment they experience on our Belize dive vacations. It's said that Belize enjoys more marine diversity than any other Caribbean destination. In 1989, Skin Diver magazine described Belize as "one of the western Caribbean's premier dive destinations, " praising its unspoiled waters and easy access.

Belize's reef is a fabled fairyland. Words cannot adequately describe the wondrous, ever-changing world of underwater Belize, the languorous, sometimes breathless silence and the extraordinary colourful nature of its inhabitants: the living corals, the crabs, shrimp and lobster, the conch in its elegant shell and fishes in unending shapes and sizes. One of the richest ecosystems on the planet, Belize's reef is punctuated by scores of beautiful islands, sand bores, patch reefs, and various underwater structures that are home to hundreds of animal and plant species, including 220 types of fish and untold hundreds of invertebrates. So rare and exquisite is this habitat that the United Nations has proposed preservation of the reef as a World Heritage Site, arguing that its deterioration or disappearance would result in "a harmful impoverishment of the heritage of all nations of the world."

Like jeweled necklaces the three coral atolls (Turneffe, Lighthouse and Glover's) are most easily dived from liveaboards such as the Belize Aggressor and Peter Hughes Diving's Sun Dancer offering eat sleep and dive luxury at affordable all-inclusive pricing. Three upscale resorts Blackbird Cay, Lighthouse Reef and Turneffe Flats offer some of the more exclusive pampered Belize dive vacations.

Ambergris Caye offers easy access to the main land and tours etc. An easy affordable dive trip that offers access to dining shops and tours would be Sunbreeze Beach, Ramon's Village, Blue Tang Inn or Ramon's Village.

Belize waters are home to the world's second largest Barrier Reef, which starts around 40 feet at the edge of coral gardens. It is marked with canyons, fissures, swim-throughs, ledges, overhangs, caverns and The Blue Hole: enough structure to attract fish and divers alike. There is just so much to see that many divers return again and again to Belize, especially since getting there is easy with American, Continental and TACA Airlines offering daily service from several U.S. gateways.

From the reefs to the jungle to the Mayan ruins, you will find Belize a special place in your heart.
Belize Destinations