3
5 miles of the coast of Venezuela, Curacao is the largest and most populated of the Netherlands Antilles. Settled by the Dutch beginning in 1634, Curacao is also one of the most architecturally significant islands in the West Indies, with a distinctive European flair. Duty-free shopping, lively casinos, and water sports make Curacao a destination of choice for thousands of visitors each year. Away from Willemstad, the capital and largest city, the countryside is much like Aruba, featuring three-pronged cactus, spiky aloes, and the wind-bent divi-divi tree.

Curacao Underwater Park stretches 12 1/2 miles along the southeast coast of the island, offering untouched coral reefs, steep walls, and shallow wrecks for divers and snorkelers. Another popular stop is the Curacao Seaquarium, with over 400 species of marine life. One of the key features of the aquarium is the shark and animal encounter, where divers and snorkelers can feed and photograph sharks, and swimm with stingrays, lobsters, and other marine life. A semi-submersible viewing platform is available for non-swimmers wishing to observe these creatures.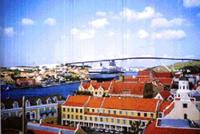 Curaçao is ranked among the Caribbean's best islands for diving: the "Mushroom Forest" is one of the top dives in the world. Shore diving is rated with the best in the Caribbean, and the island has been called one of the top destinations for new divers.
An arid climate, deep water close to the shore, distance from major sediment sources such as rivers, and painstaking reef conservation ensure that underwater Curaçao's pristine coral reefs remain home to a dazzling array of plant and animal life. Whether you are an experienced certified diver, a beginner or a snorkeler, our wide range of sites -- wall, reef, wrecks, even a ãCar Pileä -- balmy water temperatures and excellent visibility (averaging about 100 ft.) provide an extraordinary experience for everyone.
While boat diving is the most comfortable and luxurious way to dive Curacao, many experienced divers prefer to head out and explore the numerous shore diving sites with their buddies. Most shore diving sites are easily accessible: with a good map of the island and a rental car, you can reach almost all sites in less than half an hour.
Curaçao is also home to the largest air station in the Caribbean, as well as two decompression chambers, one the largest in the Caribbean.
Featured Curacao Resorts