You'll discover plenty to do above and below the crystal blue waters of Grand Cayman island.
Water Activities
The sun is warm, the breezes cool and the waters vivid blue. Add to that wave runners, ocean kayaks, parasailing and a fast-growing favorite, wind-surfing, and you may never want to exist on dry land again.
Prevailing winds on Grand Cayman's East End and North Sound provide near perfect conditions and with little instruction, beginners can take on the calmer waters located inside the reef or off Seven Mile Beach. Adventurers will enjoy the waters off East End and in North Sound.

Relax and enjoy a catamaran cruise, a snorkel trip or glass bottom
boat trip to Stingray City. For the life of the party, there are several party boat cruises available as well.
If you are not a diver, a comfortable air-conditioned submarine voyage is the perfect way to enjoy the famous coral reefs and magical sea-life. Choose from a spectacular 100- foot dive, or go for the ultimate - a voyage down the Cayman Wall to a world 800 feet below the surface in a submersible.

Whether in or on the water, the Cayman Islands offer you an unmatched world of water.
Golf
The sun is shining, the air carries the scent of ocean breezes and the golf links beckon. The Cayman Islands' first 18-hole championship course, The Links at Safe Haven, offers 103 acres, 60 of which have been planted with Bermuda grass and created according to rigourous U.S. Golf Association standards.

There's also the Islands' original original course designed by Jack Nicklaus which can be played either as an executive 18-hole or a 9-hole course.
Fishing
To fish or not to fish is a question never asked on the Cayman Isla
nds. The clean, warm waters are filled with blue marlin, wahoo, tuna and dolphin, and fishing is a year-round activity. Bone fishing on Grand Cayman's North Sound and other areas known by local guides is challenging.
The Grand Tour: Discover the charm of the Island, on-foot.
Take a self-guided historical tour of George Town. Experience the beauty of the tiny churches, memorials, homes and buildings that played an historic role in the Islands' past. Visit the National Museum and discover the rich sea-faring past that includes tales of buccaneering feats that have now reached mythical proportions.

With so much to do and see, spend a few extra moments discovering C
aymanians are so proud of their heritage.
Dining and Entertainment
With the freshest seafood you will ever taste, the native cuisine may cause you to forget there are also wonderfull Chinese, French, Mexican, Northern Italian and Continental restaurants on the island. Every kind of dining experience is available to you, from a quick lunch at a tiny establishment to an elegant five course feast for the palate. After all, variety is the spice of life.

After dinner, enjoy a comedy club or a variety of musical entertainment. For a cultural night out, the Harquail Theatre offers wonderful stage and music productions. And no trip would be complete without experiencing
Caymanian jazz musicians performing pure island magic.
Pirates Week - October
During the last week in October, pirates and their wenches fill the streets of George Town. Watch history come alive through the District Heritage days, complete with pirates, parades, costume contests, music and fireworks, sports competitions and craft fairs. There's a mock pirate landing by bands of roving pirates who "arrest" the Governor in George Town harbor. It's all in fun and in commemoration of the early seafaring days.
Botanic Park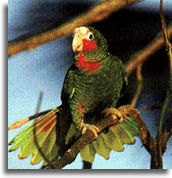 No, you probably won't spot one of the Grand Cayman Blue Iguanas at night. Why? Because they love to bask in the ever-present sun. But to view one of them in all their glory, visit the Queen Elizabeth II Botanic Park.
There, among 65 beautiful acres of protected land, you'll see the iguana, Cayman parrots, indigenous woodpeckers and lizards.
Our Turtles
Make sure you visit the Turtle Farm, where you will find thousands of turtles and tiny hatchlings weighing just a few ounces to 600-pound adults over 100 years old. In case you've never done it, they enjoy a slight pet on
those wrinkled necks. The Turtle Farm is dedicated to repopulating the Cayman waters with the same species of green sea turtles that covered the shores in 1503 when Columbus discovered the islands. In fact the turtles are the reason the islands were dubbed "Las Tortugas".
Discount air available from Miami, Tampa and Houston. Direct, non-stop.
Please call or e-mail us for rates and schedules.

Grand Cayman Resorts