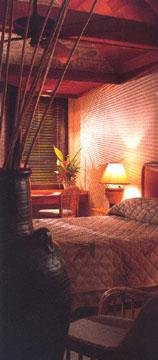 Nestled among 64 acres of verdant gardens and brilliant tropical flowers, Palau Pacific Resort offers superb accommodations with the perfect environment for recreation. Indulge in sunbathing on a blanket of white sand or lounge beside the beachfron pool. Take up scuba, snorkeling or windsurfing - all equipment and lessons are on-site. Take a canoe or catamaran excursion. Enjoy tennis on courts equipped for night play, or hike along a botanical trail. Exercise at the fitness center, then relax in one of the two outdoor heated whirlpool jacuzzis.
With 160 spacious guestrooms and suites, Palau Pacific Resort captures the spirit and culture of the islands within a world-class vacation atmosphere. Each guestroom features amenities geared for comfort, including air-conditioning, refriferator and mini-bar, as well as it's own private veranda for taking in the fragrant Palauan air. Equally as accommodating are the comprehensive conference facilities for up to 100. All enhanced by the gracious service of our staff, no matter what you need.
At the Palau Pacific, every evening is a special occasion. Dine at the water's edge on Palauan delicacies or the finest continental cuisine created for you by the chefs of the elegant Meduu Ribtal dining room. Treat yourself to the best seafood in the region at the Coconut Terrace, or simply enjoy an exotic cocktail and the warm evening ocean breeze at the Mesekui Beach Bar. As always, indulgent service is the specialty of the house.