A perfect vacation getaway conveniently located within a stroll from the quaint town of San Pedro on Ambergris Caye, Belize.
SunBreeze Hotel is the optimum hotel from which to explore the wonders of Belize. At the SunBreeze Hotel, our professional team can assist you in coordinating all your activities. Some activities include diving the famous Blue Hole, Turneffe, Lighthouse and Glovers Reef , snorkeling our latest phenomenon -- shark & sting ray alley, fishing or simply exploring the countless Mayan ruins, cave tubing, rainforest and reserves amongst many others all within a boat ride away from our pier.
SunBreeze Hotel is a U Shaped Spanish Architectural design with a touch of the Caribbean surrounded by tropical gardens overlooking the Caribbean Sea. We are centrally located at the immediate south side of the heart of the town with easy access to every means of entertainment and water sport activity; yet out of the hustle of the town. An oceanfront property protected by a seawall boasting 42 spacious air conditioned rooms of three categories, an onsite restaurant, bar, freshwater pool, massage studio, art gallery, conference room, and complimentary early morning coffee.
Our oceanfront restaurant, "Blue Water Grill", overlooks the pristine waters of the Caribbean Sea serving breakfast, lunch and dinner specializing in "Island Cuisine with a Twist" and offering menu items including meat, poultry, fish, seafood, pizza and special days of Sushi. Our restaurant has earned a reputation as one of the best in town so reservations are recommended. Serving from 7 am - 9:30pm daily.
Adjoining our restaurant is our 360 Degree Bar, with easy access for guest lounging around the pool. Our bar is an ideal gathering place, offering a wide variety of alcoholic and non alcoholic drinks among an assortment of tropical cocktails. Opened from 11 am - 9:30 pm daily.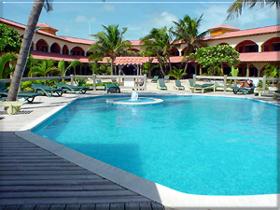 Our Freshwater pool, surrounded by 10 ft of wooden decking, is quite the place to soak up the Belizean sunshine and to be caressed by the Caribbean breeze.
Our on-site Dive Shop, Aqua Dives Belize, offers a full range of PADI courses. Daily morning and afternoon local dives, snorkel trips and Atoll trips are scheduled. Our dive shop can take care of all your aquatic needs. Located at our beach front with boats departing from our private dock.
Located in the entrance of the hotel is our Art Gallery and a massage studio. The art gallery features Chris Emmanuel arts and the massage studio "Art of Touch" offers a variety of of Aromatheraphy massages, Reiki, Healing Touch and Massage Combos.
Located above the entrance of the hotel is a fully air conditioned Conference Room with seating capacity for 70 person classroom style is ideal for the incentive group meeting.
The SunBreeze Hotel is known for offering that Caribbean setting for those looking to tie the knot away from home.
We offer a complete package which includes the ceremony either on the beach or at our bar palapa along with catering services for that memorable occasion.
We can offer you the entire Belize experience from Island to Mainland, weather you wish to visit the Mayan Mountains of Cayo at the Hidden Valley Inn or an overnight in historical Belize City at the Belize Biltmore Plaza we can tailor make any package to suit your needs.
Room Information
The SunBreeze Hotel is an oceanfront property caressed by the Caribbean Sea to the east and is surrounded by coco palms and tropical gardens amidst coral white sand. A serene and relaxing atmosphere embraces you whether you are enjoying the comforts of home from within your room or simply enjoying the tropical outdoors. Our friendly and efficient team ensures that your stay is optimum.
SunBreeze Hotel is housed in a U Shape concrete architecture featuring 42 spacious air conditioned rooms on 2 levels. Our 42 rooms comprise of 3 categories: 13 Standard, 21 Deluxe and 5 Premier rooms. All rooms are non smoking and are equipped with cable TV, direct dial telephone and ceiling fans. Most rooms have 2 double beds and a few have queen beds. All our Standard and Deluxe rooms feature hot and cold showers whereas our Premier rooms boast a Jacuzzi bath tub and mini refrigerator, unlike the Standard and Deluxe Rooms.
To suit every clients desire, we have a few super large rooms ideal for families as well as a few adjoining rooms with connecting doors for families needing that extra privacy. We also have a couple of rooms which feature limited disability access. This is in addition to the ramps positioned all over our property for wheel chair access.
All our rooms offer outdoor seating. Our ground floor rooms boast a semi private seating area created by a wooden divider between each room.
Our 13 Standard Rooms are located on the south wing of the hotel boasting garden view. These rooms are of basic and simple décor and furnishing.
Our 21 Deluxe Rooms with mini refrigerators are located from the base of the U extending towards the north wing boasting partial ocean and garden view. These rooms were newly remodeled creating a classy and more modern style setting highlighting new tile floors, dropped ceiling trimmed with mahogany crown molding, new honey colored mahogany furniture, a nicely finished vanity area complimenting the extended shower which boasts a bench, hanging bar and shower hose. Our 5 Premier Rooms are located at the north end of the U boasting more prominent ocean view over looking the pool. These rooms are furnished with dark classical style furniture, 4 poster beds, a Jacuzzi Bath Tub and Mini Refrigerator.
In room amenities include an emergency flashlights, a smoke detector, a detailed room directory, a pitcher of potable water and an ice bucket, shoe mitts, and bottled shampoo. Hair dryers, Iron and board are available upon request. Complimentary Pool/Beach Towels, T V Remotes and Safety Deposit Boxes are issued at Check In.
Check In Time is 2pm.
Check Out Time is 12Noon.
For your convenience, we have a luggage storage and a changing room area.